Total Hip Replacement (THR)
Hip replacement surgery is one of the most successful operations currently available, relieving pain and improving quality of life for the vast majority of patients. It will usually be offered to treat pain caused by arthritis when conservative measures of pain relief and symptom control become less effective.
A total hip replacement operation replaces both the ball (head of the femur) and the socket (acetabulum) with implants of different sizes, shapes and materials tailored to suit the requirements of each patient. I use a number of different cemented and uncemented implant designs on a regular basis based on the quality, size and shape of the bone.
Arthritis is the most common reason for hip replacement surgery and this accounts for approximately 80% of my hip replacement operations. "Arthritis" includes over 100 conditions that damage the normally smooth cartilage covering the joint surface. Most commonly the operation is performed for osteoarthritis. In the early stages of the disease pain is often due to the associated inflammation but as the disease progresses the pain becomes more mechanical. Ultimately, the vast majority of cartilage is lost and the patient has "bone-on-bone" arthritis.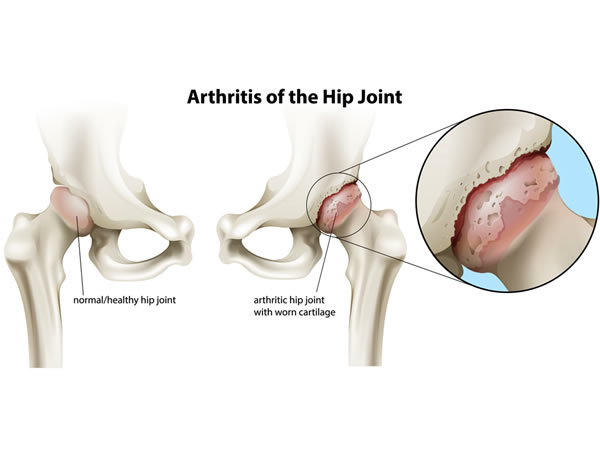 Other than osteoarthritis I perform hip replacements for conditions including:
Growth abnormalities and childhood disorders such as hip dysplasia and congenital dislocation of the hip, Perthe's disease and slipped epiphyses
Hip fractures
Avascular necrosis following loss of blood supply to the hip
Recent advances in technology have improved the longevity of implants to the extent that it is now unusual to have to re-operate on a hip ever again, even in younger patients.
Increasingly, with the demographic of an ageing population people may have a combination of arthritis, osteoporosis (thinning of the bones), sarcopenia (reduced muscle mass and function) and frailty. There is evidence to suggest that some of these factors such as sarcopenia have the potential to be improved or even reversed, and this is an area of particular interest to me. As such I am part of an expert group investigating how to optimise health and function into older age. There is particular emphasis on helping patients before, during and after their surgery.
Testimonial
I could not possibly let the moment pass without thanking you for the operation on my knee. Strange to say it was all quite an unforgettable experience in the nicest way. My thanks also to your splendid team. Mr M.S.
Testimonial
I would just like to thank you very much for giving me a good lease of life, for your great skill and for being so caring. It was wonderful to be pain-free! Best Regards Mrs J.S.
Testimonial
I just wanted to tell you how very grateful I am to you for carrying out the operation – and doing such a fantastic job! I know many people who have had similar operations but none can compare their results with mine! There is no pain now from my knee, and I have great movement and flexibility.  I will perfect the kneeling, it is too important to me to let it go.  My biggest benefit, I think, has been my general fitness and health.  Pain really wears you down and without it I feel several years younger!! So this card is just to say a really sincere "thankyou" to you and your very skilled staff.  With warmest good wishes to you.  I hope there will be many more patients who benefit from your wonderful skills! Yours very sincerely, Mrs C.W.
Testimonial
We would like to thank you so much for your expertise and approach-fulness while attending my husband with his new replacement knee. We have been very impressed with the attention you have given and also the staff at the Spire. We look forward to the future with his new knee and hopefully new lease of life.
Mr B and Mrs D R.
Contact/Find us
Spire Southampton Hospital,
Chalybeate Close,
Southampton,
Hampshire SO16 6UY
T: 023 8091 4415
E: [email protected]